Retaining walls are a crucial part of any landscape design, especially if that landscape is hilly or bumpy. These walls aid in erosion, protect planted areas, and can even be used to add pathways to your landscape. The only issue with retaining walls is the installation process. The process can be very time consuming, costly, and tiring. That is why we recommend hiring professional landscape architects.
Here are five reasons why you should trust the team at Vision Green with your retaining wall needs!
1. In-depth Knowledge and Experience
Here at Vision Green, we have installed many retaining walls under plenty of different circumstances and conditions. The experience and knowledge we have gained over the years regarding these walls goes a long way, considering retaining walls are no easy task to put together. On top of this, the Vision Green team is aware of any permits needed to dig and own specific machines and tools to allow for a smooth and easy build.
2. Save time
Building a retaining wall, no matter its size, is a very time-consuming project and can potentially cause significant issues. These issues can arise if any step of the process is not done correctly and can result in hours upon hours of wasted time. In our day and age, time is money, and we are here to help you maximize your time. By hiring professionals to do the job for you, you will save time and money.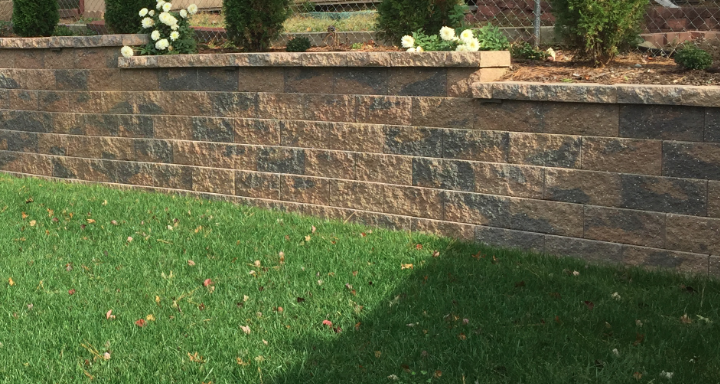 3. Save money
For most work done around the house, performing the work yourself may be cheaper than hiring professionals. This is not at all the case with retaining wall installation. The Vision Green team; 1. Can get you more affordable supplies, 2. Is responsible for any miscues or mistakes made on the job and will cover those costs accordingly and 3. Guarantee perfection.
4. Grading and Drainage Issues
If you want your landscape to flourish, grading and drainage work needs to be done. This work is mostly behind the scenes but plays a lasting impact on your yard and landscape. If done poorly, your plants, trees, bushes, and shrubs will not be able to survive, and you will be forced to pay big money to fix your retaining wall and its grading.
5. Stress-Free
Who enjoys spending hours on end working outside, in the dirt, in the blazing heat? Hire a professional so you can sit back and relax while your yard gets an upgrade. You will not have to worry about costly mistakes, drainage issues, or feeling rushed to get your work done.
Contact Vision Green today to begin planning for your retaining wall design!