When it comes to outdoor and landscape lighting, the right presentation can make a huge difference. This lighting can take your house and its landscape to the next level. Found below are some of the frequently asked questions (FAQ) by our clients and customers.
Frequently Asked Questions
Why should we light up our house?
Who doesn't love hanging out on their patio with family and friends late on a Friday night? Lighting up your house at night reveals its true beauty and creates an incredible nighttime atmosphere. These lights can extend the time you spend outdoors and create a safe, family-friendly environment.
How much energy will be used by outdoor lights?
The amount of energy used by your outdoor lighting depends on the size and structure of the system you choose. We recommend low voltage fixtures and LED bulbs that will result in a minimal increase to your electrical bill.
Why LED lights and are they suitable for the outdoors?
LED lights are extremely efficient, long-lasting, and require very little maintenance. These lights help you avoid small, petty costs that come with halogen bulbs and look much better too. The durability of these bulbs makes them perfect for outdoor environments and can last for ten years or more, even when placed outdoors!
Where should landscape lighting be placed?
Outdoor lights are typically placed 6 – 10 feet apart and focus on your home features that stand out. Features include patios, porches, appealing plants, and even sculptures. The experts at Vision Green can check out your current landscape set up and give you free estimates and recommendations on new designs that will bring your home to life!
How much should I budget for my outdoor lighting?
The cost of quality outdoor lighting depends on a few different factors. These factors include the size of your yard, type of lights and materials being used, and any unordinary obstacles that stand in the way. A safe estimate for installed landscaping lighting is $200 – $300 per fixture.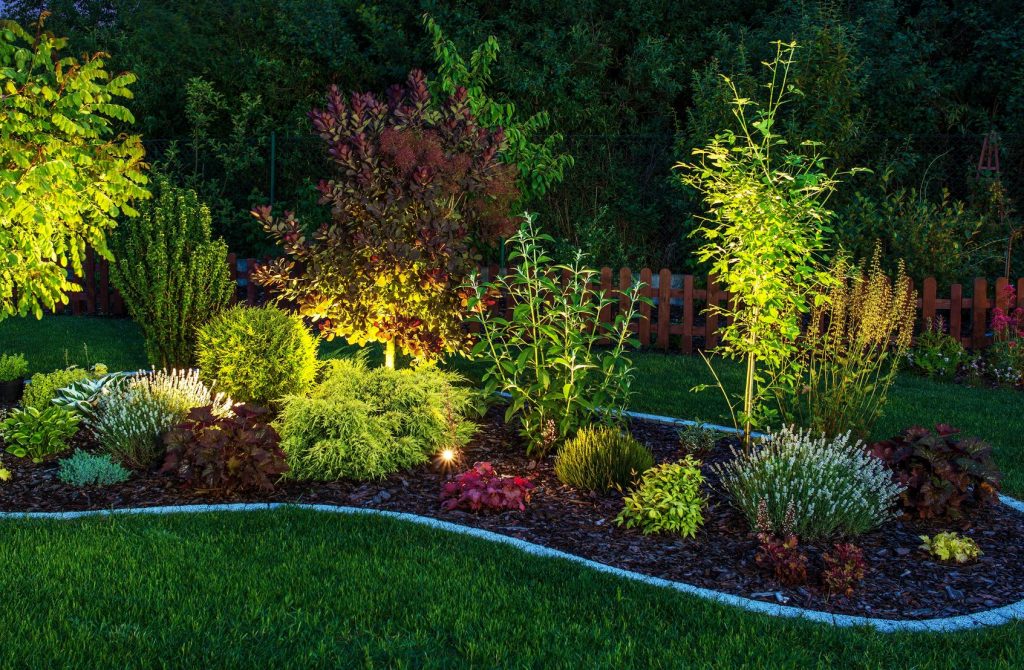 Will outdoor lighting increase the value of my home?
Yes! According to realestate.com, outdoor lighting increases the value of your home by 12%.
What color are the LED bulbs?
Most people believe that LED bulbs only come in their original, bright white form, but they come in different colors and brightness strengths. You do not need to worry about the bulb color because the Vision Green team will pick out lights that perfectly match your home.