Your house could include a home studio, state of the art kitchen or even an 80-inch Television set, but it is not truly complete without an outdoor living space.
An outdoor living space such as a patio, deck, or pergola can add a whole new dimension to your backyard and living space. It provides a great way to enjoy the beautiful outdoors that come with the Spring and Fall seasons here in Charlotte, as well as a great place to host family gatherings and parties. The additional benefits that an outdoor living space brings to homeowners make it a worthwhile investment. Below are a few of the many benefits that an outdoor living space brings to homeowners.
1. Increased Property Value
One of the easiest ways to add value to your home is by adding an outdoor living space. In today's market, many home buyers prioritize an outdoor living area over the total square feet of the house. These buyers are aware of the advantages that come with a nice patio or deck. If you plan on selling your house in the next few years, adding this extra space can be a great investment.
2. Entertainment
Do you want your backyard to be the new summer hangout? Outdoor living spaces are great places to host birthday parties, family outings, cookouts and so much more. This outdoor space gets your guests outside and allows for much more room. Instead of gathering around a television set, you, your family, and your friends can gather around a beautiful firepit and enjoy the quality time together.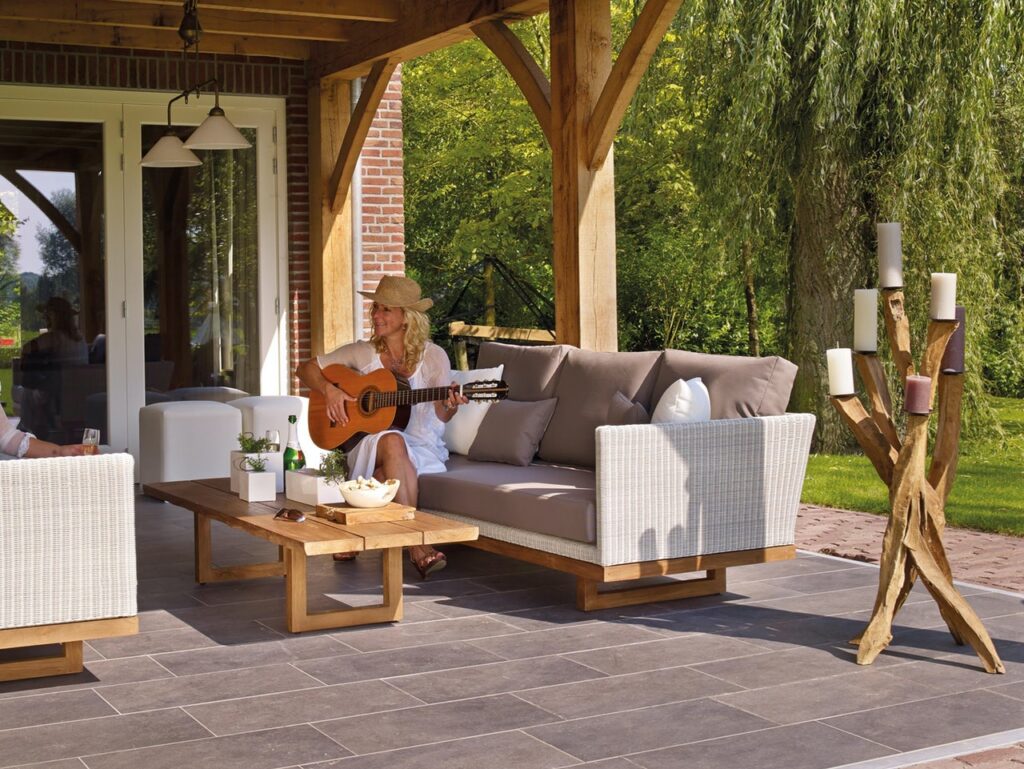 3. Health Benefits
Hundreds of studies have shown that spending time outdoors can help you cope with depression, anxiety, stress, and plenty of other psychological difficulties. Other studies claim that individuals who spend more time outside are often happier and healthier than individuals who spend all day inside. Time spent outside can increase your mood and can help clear your mind of any worries you may have. We recommend purchasing an outdoor couch or zero gravity chair to increase the value of your time spent outdoors.
4. New Ways of Cooking
Outdoor decks and patios enable homeowners to use different methods to prepare their food. Two of the more common methods are by grill or brick oven. Grilling is a great way to bring people together and is very popular at family outings.
We recommend setting up a table and chairs outside on your deck or patio so you can enjoy meals outside. Just make sure to be safe when grilling.
5. Enjoy Your Time at Home
Ever since the Covid-19 pandemic, individuals all over the United States have been hesitant to leave their houses. A beautiful outdoor living space allows for a so-called "Getaway" from the indoors and can act as a "Mini-vacation." Why would you ever want or need to leave the house when you can get a taste of the outdoors from the comfort of your backyard?
Design Your Outdoor Living Space Today
As listed, many benefits come with creating an outdoor living space. So, what is holding you back? Now is a great time to design and create the backyard of your dreams and the team at Vision Green wants to help. Fill out a form or give us a call at 704.910.1941 today!