Vision Green Landscape: Your Partner in Outdoor Living Excellence
Helmed by Brenden Phillips, Vision Green Landscape stands as the beacon for comprehensive outdoor solutions. Whether it's crafting hardscapes, nurturing landscapes, or meticulous plant maintenance, we transform your exteriors into valuable extensions of your home.
Meet Our Experts
Our strength lies in our passionate team of landscape maestros. At Vision Green Landscape, we house experts who are proficient and genuinely devoted to crafting picturesque outdoors. Serving the Charlotte region, we accompany homeowners and businesses in their journey of lawn beautification. Entrust us with your vision, and watch as we mold your outdoor arena into your dream retreat.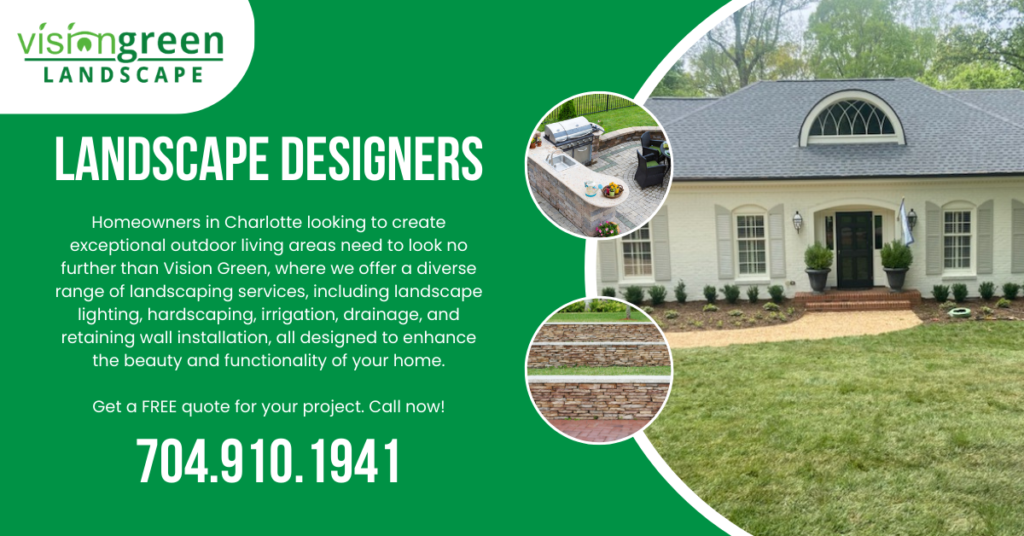 Diverse Services for Diverse Needs
We aren't just a lawn maintenance firm but a holistic outdoor solution provider. While lawn care remains integral to what we offer in Charlotte, our expertise is vast and varied. We've got you covered from landscaping to hardscaping and regular lawn upkeep.
Central to our offerings are lawn services which extend beyond just mowing and fertilizing. Delve into our specialized services like irrigation, aeration, over-seeding, and advanced turf management. Catering to both residential and commercial establishments, our mission is to bestow upon you the green, thriving lawn you envision.
Our Pledge to You
Our dedication at Vision Green Landscape goes beyond mere services. It's about breathing life into your outdoor aspirations. Be it straightforward lawn care in Charlotte or an elaborate outdoor makeover, our unwavering focus on quality and client satisfaction remains constant. Over the years, we've carved a niche for our top-tier services. Reach out and let us elevate your outdoor spaces.