Landscaping can bring out a property's features and show off some of the key points of interest. It can also bring attention to your home, especially when you use lighting. You can use different types of lights to create various effects on your home.  Before you change your landscape or add new lighting, learn how Charlotte landscape lighting affects the look of your home.
Highlights
If you're particularly proud of your home's architecture or a prized plant or tree, using landscape lighting to highlight them can make them easily visible even at dark. This is the most common use of landscape lighting since it is simple and brings out the features homeowners want people to see. Highlighting is as simple as placing spotlights beneath the features you want highlighted. You can vary the distance and angle for different effects. Larger features may require more than one spotlight to properly highlight.
Silhouette
For a more dramatic look, you can use landscape lighting to create a silhouette of certain features. This works best for dense bushes and plants and looks stunning towards the evening hours, especially against a colorful sunset. To create a silhouette, you simply place spotlights behind the object you want to create the silhouette but have it facing a solid surface such as a wall.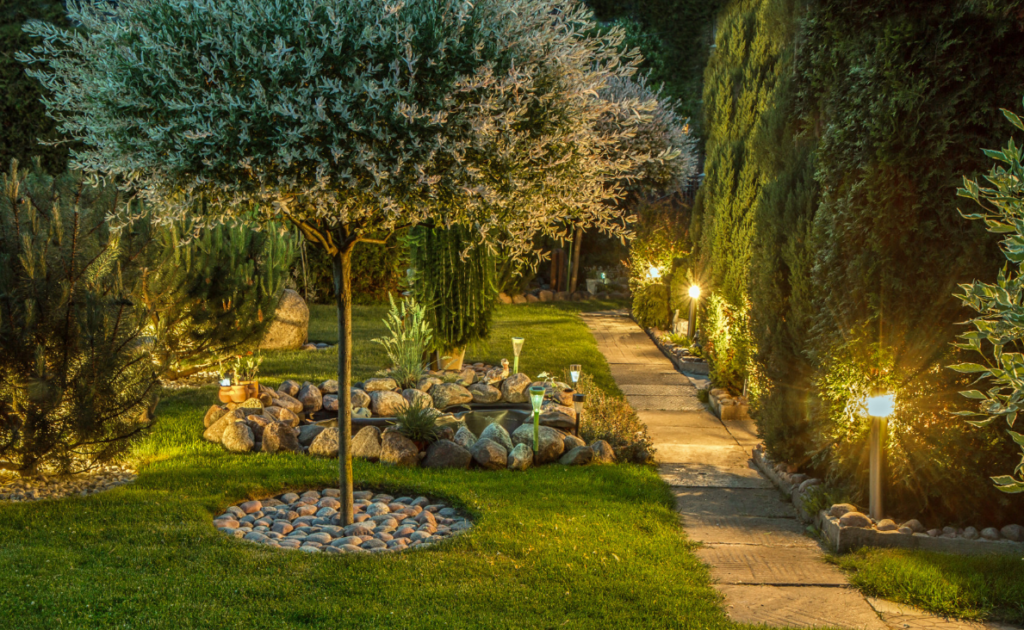 Moonlight
If you're wanting a more natural-looking landscape lighting addition to your yard, moonlighting creates a soft light. By placing a light with a glare guard in a high place, such as on a tree branch, and aiming it down, the light creates a soft glow that looks like moonlight, creating a mystical appearance to your home or yard.
Accenting Features
If you have a special statue or other feature in your yard you want to draw attention to, using lights to accent the feature will bring it out so it is visible even in the dark. This is a popular method of lighting for statues, plants, and even sculptures.
Pathways
You can light your driveway, sidewalk, or other pathways with smaller lights. By using pathway lighting, you not only add a layer of safety when walking in the dark, but pathway lights create a vision of whimsy when used along with areas with plants.
Down Lighting
Downlighting works in a similar manner to moonlighting, though it doesn't use guards, so the lights are brighter. By placing lights higher and aiming them downward, you'll cover more ground. This landscape lighting design may make it easier to get a clear view of your property and home at night.
Landscaping is key to making any home look nice. By using landscape lighting, you can highlight parts of your home or yard. You can use spotlights to create silhouettes of bushes and other dense plants or highlight your favorite tree or plant. Lining your pathways creates a beautiful entrance to your home or try the moonlighting technique for a softer, more natural glow added to your yard.
Professional landscaping can make your home look better and make it more enjoyable for your family. There's no better time than now to book your free quote.
Looking to change the look of your home? Give us a call for a free consultation on landscape lighting.