Expert Retaining Walls
If you have a sloped yard, a retaining wall is a vital part of the landscaping. It helps keep your soil where it should be and eliminates problems with runoff. If you have been searching for retaining wall contractors near you, Vision Green Landscape is here to assist.
We offer a complete list of retaining wall services, including the installation of wood, masonry, and concrete retaining walls. If you need a retaining wall to complete your Charlotte landscaping design, our experienced professionals will get the job done right.
Retaining Wall Options We Offer
Vision Green can help you add a retaining wall that is both beautiful and functional to your space. We can manage your budget and your design ideas as well. Our options include:
Block walls – Made from manufactured masonry blocks, these walls are durable and relatively simple to create.
Wooden retaining walls – These walls use pressure-treated lumber to create an attractive and durable wall design.
Poured concrete walls – A simple option that works quite well to keep things where they need to be.
Mortarless concrete walls – These interlocking blocks require no mortar to create a solid and durable wall.
Not sure which is right for you? No worries, because Vision Green will help you make a choice that fits.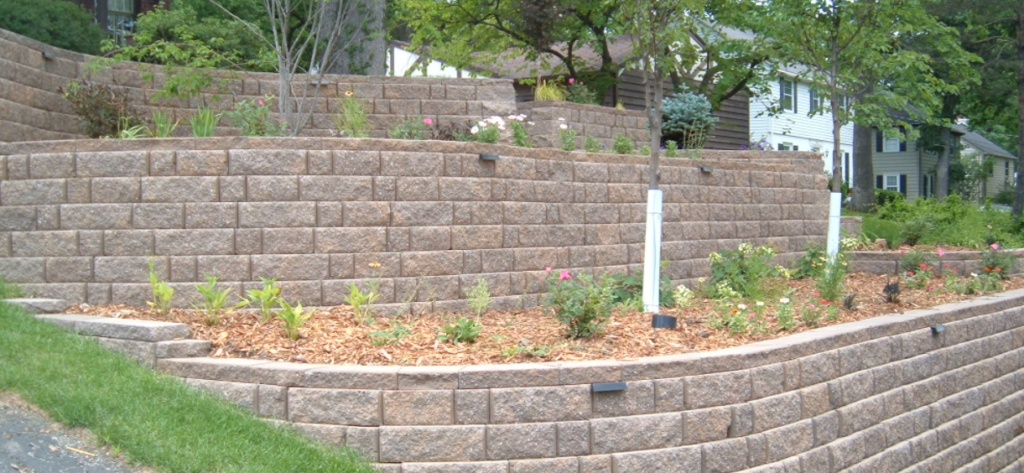 Which Retaining Wall Options Is Cheapest?
If budget is your top priority, Vision Green can help you find a durable yet affordable retaining wall option. Of the various options available, the cheapest option is often treated pine lumber. However, you will need to weigh the affordability against the fact that this material has a shorter lifespan than others, so that it may need repair or replacement sooner. Another option that is a bit more expensive, but will last longer, is railway sleepers or concrete blocks.
What is the Longest-Lasting Retaining Wall?
On the other side of the coin, you may be interested in longevity when investing in a retaining wall, not budget. Poured concrete walls are the longest-lasting option but also one of the more expensive. If you want similar durability with a lower price tag, consider interlocking concrete blocks or masonry blocks.
With so many options, you may find it challenging to choose a suitable retaining wall material. That's where Vision Green can help. Reach out to our experienced retaining wall contractors for expert advice about selecting a retaining wall material. Your search for retaining wall contractors near you in Charlotte is over. Contact us for a free quote!