Retaining Wall Installation Services
The importance of a quality retaining wall can't be understated. They play a vital role in the aesthetic appeal of a landscape, they create pathways, and they provide an essential functional purpose for maintaining the overall health of your yard. Vision Green offers a range of high-quality options for retaining walls in Charlotte like poured concrete, conventional block walls, mortarless concrete, and wooden retaining walls. We're here to help homeowners in Charlotte discover which option is the best for their landscape.
The Benefits of a Retaining Wall
As 2020 roars in, it's important to consider upgrades to your home and landscape that add value. A retaining wall is a wise investment that increases the value, appeal, and structural soundness of your home and landscape at a reasonable cost. As the number one retaining wall contractor in Charlotte, NC, Vision Green is here to help educate you on the benefits of a retaining wall and send our experienced landscaping experts to craft a wall that stands the test of time.
The primary reason to consider adding a retaining wall to your landscape is to prevent damage related to erosion. A retaining wall is constructed to provide support to avoid a sudden or gradual soil collapse. This is generally most important on a slope. A retaining wall can also be used to retain the area around your home from structural damages.
Erosion can cause damage to nearby buildings, the landscape, or even bystanders. A retaining wall installation from professional retaining wall contractors in Charlotte, NC, like Vision Green, can improve the look and function of your landscape and existing walls.
A retaining wall can be used for a variety of purposes. From a purely aesthetic standpoint, retaining walls can create pathways to your home or add character to a landscape. They can be used for large, intricate landscaped areas like elevated flower beds. They can even be used to separate different areas of the yard. Finally, a retaining wall can be used as a sort of privacy fence if you prefer stone and mortar to a wooden fence.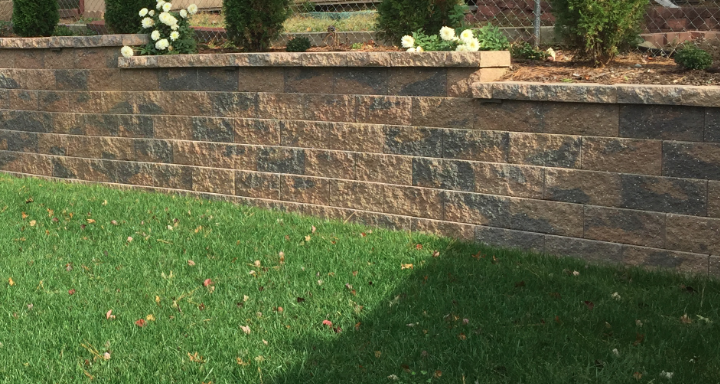 Choosing the Right Building Material
If you want to have one of the best-crafted retaining walls in Charlotte, you need to select the material that fits your aesthetic preference and functional goals. The most often used materials are as follows:
Poured Concrete — These retaining walls are both durable and straightforward. A concrete retaining wall does an excellent job of providing lateral support to vertical slopes of the land. A skilled concrete contractor like Vision Green can create an incredibly strong retaining wall using concrete.
Conventional Block Walls — Manufactured masonry blocks create a structured, uniform wall that brings distinction to any yard. These masonry blocks bring a smooth finish to complete a distinguished look. These stacked masonry blocks provide a long-lasting, durable option that complements any landscape.
Mortarless Concrete — If you want an affordable design that will stand up strong against the test of time, Mortarless Concrete is for you. Mortarless concrete blocks come together without grout to create a smooth, sleek installation that saves you time and money. The key to these blocks is the interlocking tabs. These tabs create a sturdy lock for a professional look that lasts. They provide a stylish alternative to conventional blocks.
Wooden Retaining Walls — Our pressure-treated lumber is a popular retaining wall option. Wood has a natural charm that many find lacking from concrete or block walls. Wood creates an incredibly stylish, stunning aesthetic, mainly if it's being used to create a garden barrier or pathway. Wood is also very cost-effective and can easily be repainted as your landscape or preferences change. Wood is also extremely durable when properly treated and maintained. It can last for just as long if not longer than many block options. Plus, since there's no mortar or concrete to mix and lay, Vision Green can have your wall up quicker than you ever imagined.
Vision Green can help you choose the right building material for your preference and the environmental factors unique to Charlotte. We're dedicated to helping you understand how to care for your retaining wall. We don't just install a retaining wall—we teach you about the stability needs and maintenance required to keep your wall holding strong for decades.
Professional Installation, Professional Service
Vision Green prides itself on providing high-quality, expertly crafted retaining walls for the Charlotte community. We are the go-to for retaining wall contractors in Charlotte, NC. We're committed to helping you make your landscape dreams become a reality, and our dedication means a product that will stand the test of time.