Create Your Dream Outdoor Space
Is your outdoor living space failing to meet your expectations? Vision Green offers outdoor living contractors in Charlotte that can help you transform it into an appealing, attractive place to enjoy time outdoors. Whether you want to add an outdoor kitchen or need help making your patio attractive, trust our team to transform your space into something you can truly enjoy.
Here are some ways our outdoor living contractors can spruce up your outdoor spaces.
Adding Outdoor Kitchens to Take the Cooking Outside
Hosting a bar-b-cue or outdoor party is a great way to have friends and family over, but hosting while you are indoors cooking is a drag. Building an outdoor kitchen lets the cook be part of the fun, mingling with guests while stirring and sauteing veggies. Outdoor kitchens can include everything you have indoors, including the kitchen sink, but on your porch or patio. Our design team can help you determine what you need, and our outdoor living contractors will build it for you, helping you create an outdoor living space that is an asset to your home and family.
Landscaping to Draw Attention to Your Home's Best Features
Another way our outdoor living contractors can help your home is with our landscaping services. Landscaping can help protect your home from run-off while also improving the overall look of your outdoor living spaces. We can help you with every step of the process, from choosing the right plants and planting them to helping you plan for watering and maintenance of your landscaped areas. In addition, we have a team of landscape architects who can design a beautiful oasis in your yard, highlighting your home's best features and making it a welcoming, calming place to enjoy time with your loved ones.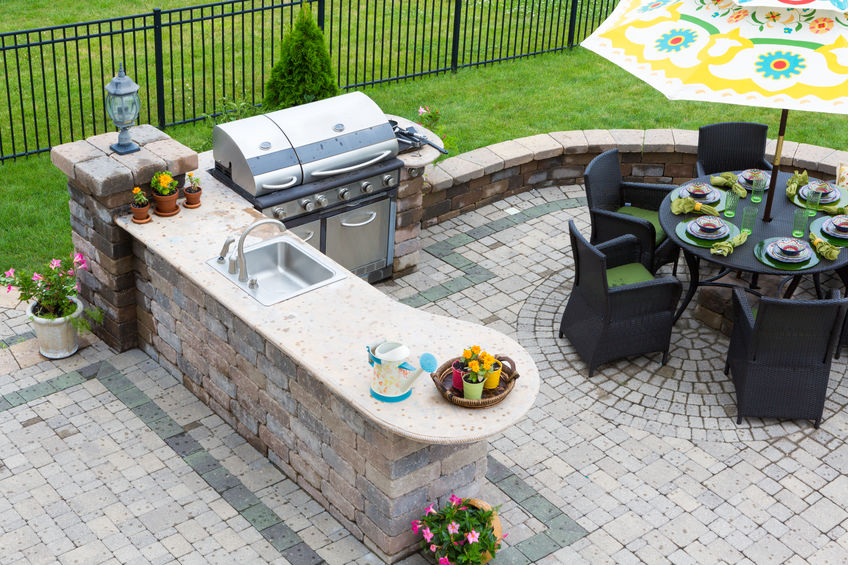 Build an Inviting Patio Space
Not only do our outdoor living contractors help you build a patio space that will extend your home's living area outdoors. If you already have a patio but feel that it lacks character, we can help you add the features that make it more attractive and usable. From intricate brickwork and hardscaping to outdoor lighting and the addition of built-in seating, let us transform your patio to something that will be a true asset to your home, not just a slab of concrete in your yard.
Use Outdoor Lighting to Add Interest to Your Living Area
Outdoor lighting is often the finishing touch to an outdoor living area. It makes it usable after dark, highlights the best landscaping features, or illuminates walkways to increase safety for people. Our outdoor living contractors can help you plan exterior lighting that will achieve your goals for your space. Whether you want to make the area safer or are looking for lighting to enhance the aesthetics, trust Vision Green to make it happen.
If your outdoor living space needs an upgrade, reach out to the best outdoor living contractors in Charlotte. Contact us today to learn more about our services and how we can help you with your yard and outdoor spaces.