Local Yard Drainage Contractors
Charlotte sees its fair share of drainage problems since it is common in the area. These problems can take years to build up or happen instantly. One of the most common issues with improper drainage is malnutrition for the landscape. This can end in losing trees, plants, and grass. One of the more severe problems with improper drainage is foundation damage. When water builds up around the foundation and doesn't have a way to drain away from it properly, it can cause serious issues. Still, water is also a breeding ground for mosquitos and other unwanted pests and bacteria. Not only is improper drainage terrible for your yard and foundation, but the water buildup is merely unsanitary. Vision Green owns all the necessary equipment to get the job done right for yard drainage solutions for Charlotte homeowners.
Why It Happens
There are several reasons why Charlotte homeowners may have yard drainage troubles they need to find solutions for. Even when adequate drainage is provided, there may still be water buildup in certain circumstances.
Improper grading is one of the top causes of drainage problems. This happens when contractors don't provide enough elevation in the landscape to allow proper drainage.
Settling is another common problem when it comes to yard drainage. Settling can occur when debris and roots break down over time, creating sinkholes in the landscape. Settling can also happen when the compaction of the subsurface is poorly done. Simply filling in a sinkhole without finding the root cause of the problem can lead to the issue happening again later.

Even when there is good drainage, areas, where water is consistent can present problems. For example, if the water table is high and nearby springs underground, you may begin to notice water buildup in your yard. During the summer, when the AC is running, the condensation line can also present a problem regarding water drainage.
Sometimes the drainage system installed initially doesn't hold up well, or it ends up backed up. Drainage systems can become clogged or crushed, resulting in a swampy mess in the yard. Yard drainage solutions for Charlotte homeowners should be left to the experts with all the tools needed to protect and preserve the landscape.
Structures and other objects that can't be moved can create elevation problems, such as driveways, roads, and sidewalks. When these objects are in the way and fixed elevation must be used, this can create drainage problems in the structures' areas.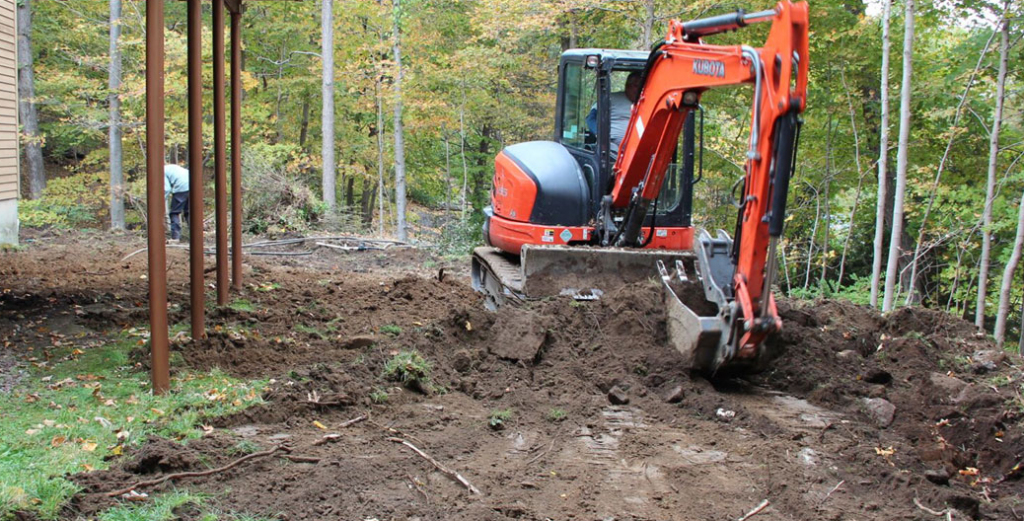 Solutions
Many options are available for yard drainage solutions for Charlotte homeowners. However, the most effective and cheapest solution is to have the yard graded adequately if surface drainage is possible.
Channel drains offer a simple solution for yard drainage. They work by collecting surface water and roof runoff. They are installed in concrete and lead the runoff water away from the yard and house. Catch basins work similarly, but they are typically used only around certain parts of the yard. For example, when a yard can't be graded, or grading would create space that can't be used after, channel drains and catch basins are the next best solution. Both collect water and lead it into pipes that carry it away from your yard and home. Leave it up to the experts to help determine what drainage solutions would work best.
There is a simple fix if runoff from downspouts is the primary source of yard drainage problems. Extend the gutters and connect to a drain pipe to lead water away from your home.
A French drainage system works wonders in areas where you want to preserve the soil and delicate plants. A perforated pipe is wrapped in landscaping fabric, allowing excess water to enter the tube. In addition, the material prevents soil, roots, and other things from entering and clogging the pipe.
On rare occasion, there is no other way to collect and direct water from crawl spaces or the yard; a sump pump can be used. This is most common in areas where there is no way to run water off at a lower elevation and can also be used to prevent basement flooding when drainage is poor.
When yard drainage solutions for Charlotte homeowners are needed, you'll want to talk to the experts who have all the necessary tools to fix your problem. Improper yard drainage leads to dead trees, plants, and grass and can also lead to structural damage if stagnant water sits too long on the foundation of your home. To prevent unnecessary, costly problems, getting your yard graded is the most natural yard drainage solution available. When grading isn't possible, there are other ways to direct water away from home. Channel drains or catch basins are some of the more common solutions, but if you need to preserve plants and the look of your yard, French drainage systems are the answer. When in doubt, contact the professionals for your yard drainage solutions for Charlotte homeowners.