Ballantyne is one of Charlotte's fastest-growing up-and-coming areas. As it has grown, so has its housing options. If you are one of the many who calls Ballantyne home, you need the services of a professional landscaping crew to ensure that your home looks as great as everyone else around you. Vision Green Landscape is pleased to offer Ballantyne landscaping services to ensure that your yard looks beautiful and inviting.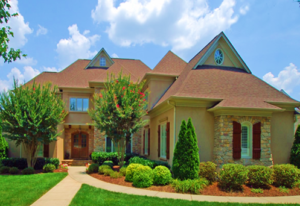 Comprehensive Lawn Care for Ballantyne Homes and Businesses
Keeping your lawn looking great can be a full time job, especially in Ballantyne. When you partner with Vision Green for Ballantyne landscaping services, you can be certain that your lawn will look lush and green all year long. From aerating to fertilizing to irrigating, we know what needs to be done to keep a lawn healthy.
Irrigation Services in Ballantyne
Keeping your lawn and garden healthy requires the right amount of water. Too little water will starve your plants, while too much water can make them sick. Vision Green's irrigation services will analyze your yard and provide the right amount of moisture where it is needed most, saving you from the hassle of having to water your plants, while ensuring that they are adequately watered all year long.
Beautiful Hardscapes Make Outdoor Entertaining Convenient
If you love to entertain outdoors, then consider contacting Vision Green for help with your hardscape. From your patio to your walkway and even a retaining wall, our landscape design professionals will create an outdoor living area that incorporates everything you need and want, and adds beautiful character to your home.
Comprehensive Landscaping Services for Businesses
As a mixed-use development, Ballantyne appeals to more than just homeowners. If your business is located in Ballantyne, trust Vision Green for all of your landscaping, lawn care and hardscape needs. We help both homeowners and business owners keep their yards and green spaces looking their best, all year long.
Whether you are a Ballantyne homeowner or business owner, a beautiful yard is a priority. You can trust the experienced, friendly team at Vision Green Landscape for all of your Ballantyne landscaping services. Whether you are concerned with your lawn, want to plant a beautiful flower bed or need a retaining wall to be built, Vision Green is ready to help.