Outdoor Fire Pit Services
For anyone who enjoys spending time outdoors and at night, a fire pit is just for you! A beautifully crafted fire pit can give your outdoor living space a wonderful ambiance. It's a great way to increase your property value too. Our fire pit installation experts can create a beautiful fire pit for you from the ground up or premade parts. Different natural materials can be used when installing to blend with your landscaping for a great and natural look. Safety and functionality are a priority; the ability to use your fire pit year-round in a safe and cozy environment is what we strive for.
Fire Pit Design
Materials:
Homeowners or sometimes landscape contractors use materials not suited for high heat temperatures. For example, concrete blocks can explode if they're not created for heating purposes.
Stainless steel interior liner should be installed with suitable space for proper airflow between the liner and material. This barrier will prevent the fire pit material from getting too hot and causing problems.
Height & Size:
In general, an adequate height for the outside edge of your fire pit is about 6 and 12 inches tall. This allows for a safety buffer to keep logs from rolling out, but it's not too deep for a need to lean in and risk injury.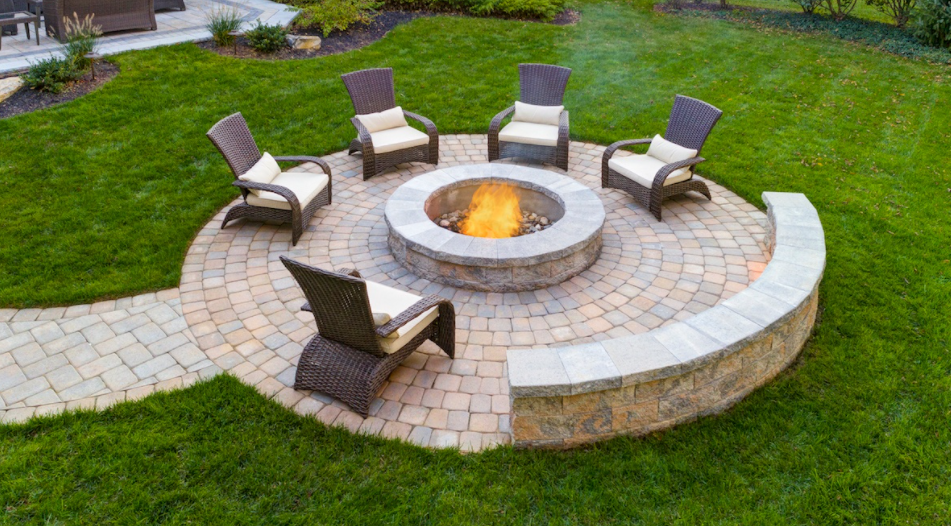 Fuel Sources for Your Outdoor Fire Pits
Propane Fuel Source
Propane can run through a hardline or use a refillable tank. The refillable tank is convenient as it can be exchanged for a new one, hassle-free! However, it can be less ideal as the tank may always be in sight. Luckily, some outdoor fire pits can be sized to allow the propane tank to remain hidden underneath.
Advantages:
Burns bright, even in well-lit situations
Best heat source
Most efficient British Thermal Units (BTU)
Convenient
Natural Gas Fuel Source
Natural Gas is a common type of fuel used among outdoor fire pits. Numerous homes already run on natural gas; therefore, there's no need for another system. However, you would need to run a hardline to your fire pit. If you choose this fuel source, a certified technician is required for installation, so your safety, your loved one, and your neighbors are ensured.
Advantages:
Available through home & no refills
Fuel burns much cleaner
Most cost-efficient
More white-toned fire generation
Wood Fuel Source
A wood fire is a vintage choice and is more affordable. This fuel type allows for an authentic campfire feel but requires more storage space for wood. Once the wood runs out, the fun is over. Furthermore, storing wood can attract unwanted pests.
Advantages:
More affordable fuel source

Benefits Of An Outdoor Fire Pit
Comfort 
Nothing compares to relaxing under the stars with the warmth of fire or roasting marshmallows and making memories with loved ones. So whatever your intended purposes are for your outdoor fire pit, we'll design a style that aligns with your idea of comfort and relaxation.
Design 
Endless customization and design possibilities are available for your outdoor fire pit needs; your fire pit will complement the style of your home and landscape just the way you want it.
Other benefits received from an outdoor fire pit:
Year-round enjoyment
Additional outdoor lighting
Warm & inviting outdoor lounge area
Add value to your home
Are you ready to install a fire pit in your home? Contact us to get a free quote on installation and materials!